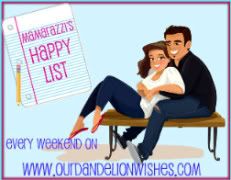 So lately I have been in a winter FUNK and the best way out of a funk is to walk right through it with a
HAPPY LIST.
Thank you so much
Mamarazzi
for helping us remember all the things that make us happy!
Ok the first thing in my happy list is my family.
Honestly they bring me more
j
oy
then anything.
They make every day a day worth getting up for..
I mean just look at those beautiful faces :)
Not the best picture of us.
Were a goofy bunch but you know what?
Everything about "us"
this is what this Holiday is all about....
these are my true loves and they make me SOOOO happy!
Chocolate... I love chocolate! I mean who doesn't it???
Chocolate makes me so happy...
I mean look at it and all it delicious goodness
Doesn't that just make your heart sing with happiness! YUMMY
Ok this next thing that makes me happy may sound crazy but....
my food storage makes me happy. I love knowing that if something major happens (snow storm, layoff, etc...) my family is going to be ok because we took the time to prepare. It isn't much but we have it started and the peace of mind that brings me is PURE happiness!
And the last thing that makes me happy this week is
Love of family
~ Great Friends ~
I have so much to be happy for!
Tell me what makes you happy and play along with
Dandelion Wishes