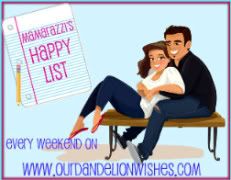 So I have been challenged to create a
Happy List

so here goes
:
My silly little chickens give me the best eggs ever and I feel very happy every time I cook with them.
Something about raising them myself just brings me such satisfaction. Knowing that I raised these little baby chicks to be full grown egg producing hens makes me feel successful and that makes me Happy!
LASH BLAST MASCARA
This is the best mascara ever. Cover girl has really come out with some amazing new products over the years. I used to only use Department Store makeup and pay 3x's as much and I have found this is even better. They even have several varieties to find your perfect one!
Victoria Secret has the best lip glosses. The Beauty Rush lip gloss collection is another great buy. I don't wear a lot of make up anymore but if I don't have my lip gloss and mascara I just don't feel ready for the day. Check them out they are worth the money!
Baking with my food storage and learning how make bread for my family has made me very happy too.
I love learning how to make things myself instead of buying them from the store. If you would like an excellent recipe for bread that taste very close to store bought check out this site.
Food Storage Made Easy
My boy survived his first week of college and is coming home tomorrow *smile* for a home cooked meal of fried rice! (and get his laundry done) I know that I have already posted about this from last week but I am very proud of him and he makes me happy!
Well I guess when I think about it I have a million things I am happy about but those are just a few I thought I would share. Play along. Tell me what makes you happy today. And thanks for stopping by. Have a great weekend.